Vehicle Emissions Testing in Kenosha, WI
Visit Our Local Emissions Testing Center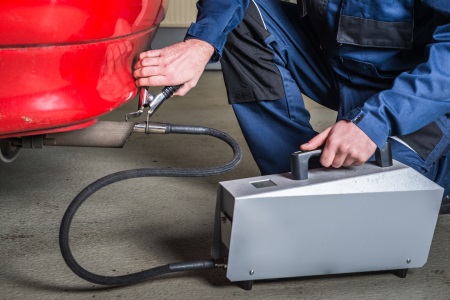 At Dave's American Discount Muffler we are well-equipped and fully trained to perform all safety inspections and/or emissions testing you may need. We pride ourselves on offering prompt and thorough service our customers can trust and afford. Our friendly staff will help get your vehicle tested and inspected so you can renew your license plates.
Simply schedule an appointment with our Kenosha Auto Shop and bring one of the following documents with you:
Certificate of registration
Wisconsin title
Prior inspection report
Letter from the Department of Motor Vehicles
Substitute Renewal Notice/Non-operation Statement (form available on WisDOT website)
Our knowledgeable staff is happy to work with your schedule to get you in and out as quickly as possible.
Why an Emissions Test?
First and foremost, an emission test is required in most SE Wisconsin counties:
Before your license plates are renewed every other year (starting the third year after the vehicle's model year)
When the ownership of the vehicles changes
After initial registration in Wisconsin
Emissions testing and inspection can be something that really sneaks up on you, luckily the Wisconsin Department of Transportation will notify you by mail when your next emission test is due. Some vehicles are exempt from getting an emissions test, including:
Vehicles with a model year 1995 and older
Diesel vehicles older than 2006
Motorcycles
Truck with farm registered plates
Qualifying school buses and service vehicles
For the complete list of exempt vehicles, specifics on why vehicles are tested, and other testing restrictions and requirements, check out the WisDOT emissions test page.
Contact our Kenosha Auto Shop for all your Emission and Inspection Services.