Kenosha Muffler Shop
Offering high quality parts and incredible customer service, Dave's Muffler is a trusted Kenosha auto repair shop. We guarantee fast, affordable service as well as honest inspections and quotes. Whether your exhaust needs a new muffler, tips, manifold, or a complete custom system we have the state-of-the-art equipment to get the job done right.
Schedule an appointment
with Dave's American Discount Auto in Kensoha, WI.
Exhaust Repair & Replacement Services You Can Trust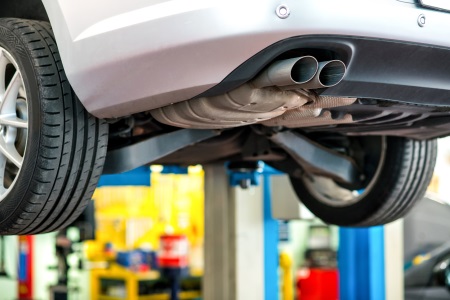 The exhaust system is an important feature of your vehicle and can have negative effects on your wallet and the environment if it gets too beat up. Damage results in cracking, puncture holes, and corrosion which can lead to dangerous exhaust leaks. If your exhaust problems are caught early enough, repairs can be made to prevent further damage.
These are a few signs that it's time to get your exhaust fixed:
Smell of raw gasoline
Excessively loud/Hissing sounds
Hanging, dragging, or damaged
Decrease in power, acceleration, and fuel efficiency
Custom Muffler Services
When it comes to choosing an auto shop for custom work, you want great results and a business you can trust. Our staff is highly experienced in custom services and understands that different systems, mufflers, resonators and catalytic converters all contribute to the sound, performance, and restriction of your car or truck. We are prepared to work with you to find out exactly what personalization you want. When it comes to noise level and specific sound of the exhaust, it's all about personal preference and how you want your car exhaust to sound.