Kenosha Auto Heating & Cooling Repair Service
If the AC or heat goes out in your car, trust Dave's in Kenosha for quality auto repair services. Our mechanics will work diligently to get your heating & cooling system repaired properly and in the most time- & cost-effective manner possible. We've been caring for vehicles in Kenosha for 30 years now, and we are always happy to help new customers. Give us a call to discuss your auto problems and how we can help!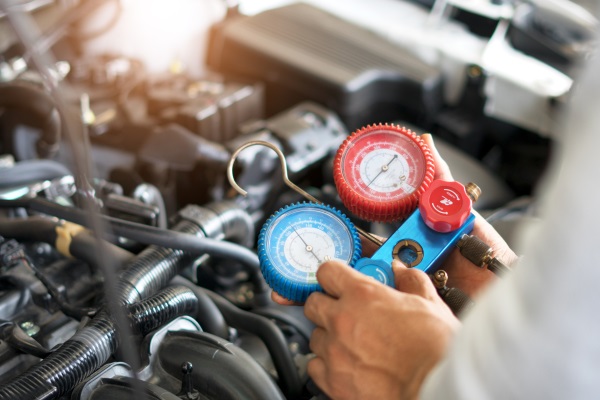 Auto AC Repair
You Don't Have to Sweat it Out When Your Car's AC Fails
Wisconsin summers can get hot. Don't sweat it out; get your car's broken AC fixed at Dave's! The cooling system in your vehicle is important to more than just your comfort; your engine also depends on your cooling system. If your AC goes out, schedule an appointment with our local mechanics to get it inspected & fixed.
Some common reasons a car AC falters include:
Weak airflow – mold or mildew could have built up in the evaporator case from residual moisture left over after the cooling process.
Loose equipment – a hose could have been jarred and come undone, this often happens to the blower hose that supplies air to the unit.
Broken ventilator fan – if the fan is unable to move air, your airflow will be weak or non-existent.
Opened seals – AC ventilation systems are very sensitive and must remain sealed. If your core case seal, blower house seal, or evaporator core seal is compromised, your system will not function properly.
Car Heat Repair
If the Heat Goes Out in Your Car or Truck, Visit our Local Auto Repair Shop
If your car's heat is blowing cold air, the solution may be as simple as adding coolant. You don't want your radiator to run dry, so you should always keep an eye on your coolant levels.
No heat could be a sign of a more serious problem, however.
The engine cooling system that prevents your car from overheating is directly linked to your heating system. If your car's heating system is not working properly, it's important to have it checked out promptly by Dave's Muffler in Kenosha, where we can provide repair if necessary. An improperly functioning heating/cooling system can result in irreversible engine damage (costing you more in the long run). Having the coolant flushed regularly and refilled with clean fluid is essential in maintaining the heating system in your vehicle.