Undercar Maintenance & Repair in Kenosha, WI
When you're thinking about auto maintenance and repair, it's easy to forget about your undercarriage and the important role it plays in your vehicle's overall health and performance. Vital parts including the braking, exhaust, suspension and steering systems of your car are housed underneath it; where they are exposed almost constantly to bad road conditions, extreme weather, and other elements that cause faster wear and tear. The professionals at Dave's Muffler can ensure that your car or truck is running smoothly for longer; saving you time and money on future repairs.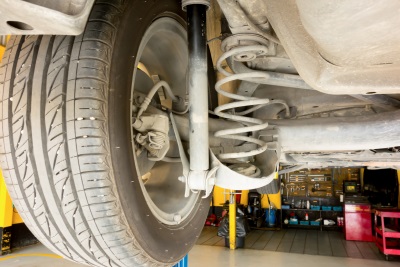 Services We Can Help You With
Next time you're scheduling an oil change with Dave's, ask about our undercar maintenance services. The undercar services we can help you with include:
Tires – coming in direct contact with the road, your vehicle's tires experience a great amount of wear. Your tires can last longer when balanced, rotated, and aligned from time to time. Offering a huge selection of tires from top brands, Dave's is the right choice for tire maintenance and replacement.
Shocks and Struts –your suspension system connects your vehicle to its wheels and plays a big role in how smooth your ride is; each part, from the tires to ball joints, is important. Some parts, like the shocks, struts, and coil springs wear faster than others and needs to be inspected regularly and sometimes replaced. Properly working shocks reduce the effect of traveling over rough ground. Struts work a bit differently than shocks in that they provide structural support for your car's suspension.
Chassis – the chassis is your car's internal (bottom) framework; it supports the body of your vehicle as well as other parts; like the wheels, engine, transmission, driveshaft, differential, and suspension.
Exhaust – your vehicle's exhaust system guides exhaust fumes away from the engine. A properly functioning exhaust system is better for you, your car, and the environment. A malfunctioning exhaust or muffler can allow gases to seep into the interior of your car, and often grows louder as the problem worsens.
Alignment – When the wheel alignment of your vehicle is off, your ability to drive safely is compromised. Common signs of an alignment problem include your car pulling to one side or a shaky steering wheel.
Differential – The differential allows the outer drive wheel to rotate faster than the inner drive wheel during a turn. This allows for smooth, accurate motion and steering.
Anti-lock Brakes – Anti-lock brakes prevent wheel lock-up by monitoring and maintaining optimal brake pressure during an emergency stop.
Keeping Your Undercar Clean Is More Important Than You Think
Maintaining the condition of your undercar auto systems is only the start to keeping your vehicle on the road longer. Keeping the same parts clean will go a long distance in your car's health. Dirt, grime, dusts, and salt easily build up on the underside of your vehicle every time you drive. Construction sites and harsh weather only increase the grime and prevent your vehicle from removing heat efficiently. The excessive build up can lead to unwanted corrosion and rust; the damage can also affect the overall life of your vehicle.
Contact Dave's Muffler in Kenosha to keep your vehicle running smoothly today!