Kenosha Brake Service
Brake Repair & Replacement
We don't need to tell you how important the brakes in your car or truck are. You can imagine the horrifying scenario where you're unable to stop your vehicle; it's not a situation anyone wants to be in. It's easy to take your vehicle's brake system for granted because we're simply used to them working instantly at the push of a pedal. Luckily, the difference between good brakes and bad brakes are pretty easy to spot. When your brakes start to screech or squeal it's time to have them inspected by the professionals at Dave's Muffler in Kenosha. If you wait too long for brake repair or replacement, your pads and rotors will start to grind and can cause serious damage to your wheels. Unexpected problems with your vehicles brake system can be scary and potentially very dangerous, that's why it's important to keep up with regular auto maintenance.
When Should I Have My Brakes Inspected & Replaced?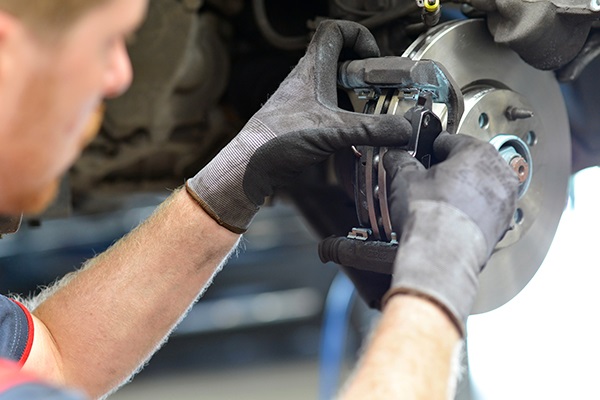 Breaks can generally go between 25,000 – 50,000 miles before needing to be replaced. If you've made a habit of braking abruptly, or you brake more frequently because of city or highway traffic, you'll likely need your brakes replaced sooner rather than later. Smooth, gradual braking will help prolong the life of your brakes; this is especially important for new brakes. It's a good idea to have your mechanic inspect you vehicle's brake pads during your oil change and tire rotation appointments.
There are several components, big and small, that make up your vehicle's braking system. Most often, the brake pads, rotors, or brake lines are the first components to deteriorate from wear and tear or old age. Brake fluid is also important and should be changed at least every 2 years. Having your vehicle regularly inspected will help you catch bad parts before they cause additional problems or safety issues.
Brake problems to keep an eye out for:
Screeching or grinding noise when you brake
Vehicle pulls to the side when you brake
Soft or spongy brake pedal
Brake warning light
Low or colored brake fluid
Incredible Car & Truck Services You Can Trust
At Dave's American Discount Muffler we're committed to providing our valued customers with a pleasurable vehicle repair experience. We recognize that some places treat you as just another number, but we work diligently to ensure you leave our shop completely satisfied. It's crucial to pay attention to your vehicle and recognize when something sounds off. When you just not sure what the problem is, we are happy to troubleshoot any issues you've been experiencing. Brakes and tires are two of the most used and quickly worn items on a car, so it's essential you take your vehicle to a reputable auto shop that will be upfront about cost and deliver quality services as promised, without any run around.
Keeping your vehicles brake system functioning properly is key to your safety and the safety of all the other drivers on the road. Let us take the worry out of your brake repair and replacement.
Contact our brake repair shop toady to schedule an appointment!